If you have young children, or know someone that has young children, and you want to keep them safe on the roads and highways, then this information is for you.
22 – Child Safety Seats and Booster Seats: A Parental Obligation in Today's Society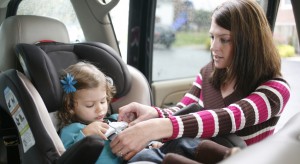 Children, infants and older, can be the most vulnerable individuals in a car crash. That is why as a parent or grandparent, child safety seats and booster seats are two of the most important things you can purchase for your car.
Deborah Hersman and Traffic Safety
Former NTSB Chairman Deborah Hersman is passionate about having all young children sitting in properly installed child safety seats and booster seats. Before stepping down from the National Transportation Safety Board (NTSB), she and I had the great opportunity to discuss child safety seats and booster seats.[1]
A leading safety advocate, Ms. Hersman provided guidance for the NTSB and the United States on what can be done to make our roads and highways safer.   For her, child safety seats are important because they are designed for those individuals who can't speak for themselves, our children. Read More and Listen to the episode>>>
15 – Child Safety Seats: Are Yours Properly Installed?
Three out of 4 child safety seats are not properly installed.  Jennifer Huebner-Davidson, Manager of Traffic Safety for AAA and an expert on child safety seats, discusses some of the common mistakes and what you can do to make sure your child's seat is properly installed.
Why Child Safety Seats?
Car and truck seat belts are designed for adults.  For the best protection, the lap belt should be low and snug across the hips and the shoulder portion must be snug across the chest, away from the neck and face.  For many adults, this is not a problem.  However, for young children, adult seat belts never fit properly.  With an incorrect fit, a child is at serious risk.  A child safety seat or booster seat remedy this problem. Read More and Listen to the episode>>>
05 – Child Safety Seats: Buckle Up—Every Ride, Every Time
Ms. Kate Carr, CEO of Safe Kids Worldwide, talks about Child Safety Seats and their critical importance in saving children's lives in car crashes.  The easiest and most effective way to protect your child in a car crash is a child safety seat. This episode is a conversation on when, where and how to properly use a child car safety seat.
The first step in protecting your child in a car crash is purchasing a car seat for your newborn, the second step is installing it correctly and the third step is actually buckling your child in it.  With a 58% reduction in child deaths since 1987, it is clear that we have significantly improved our actions to protect children, but more needs to be done.  One example discussed in this episode is Great Britain's most famous newborn, Prince George. After being carried out from St. Mary's Hospital in England, he was placed in a child safety seat located in the back seat, and it was a rear-facing—both fantastic actions.  However, the straps in the car seat placed around Prince George were too loose, and he was wrapped in a lot of swaddling, concerns for child safety experts.  Fortunately, the corrections are simple to make. Read More and Listen to the episode>>>