September 8, 2013 | Posted in Podcast Episodes
Comments Off on 00 – Highway to Safety is About Hope
Podcast: Play in new window | Download
Making my community a safer place to live is my (David Wallace) mission in life, and the career I chose certainly supports that resolve:
A former assistant prosecuting attorney in Michigan for 16 years,
A Traffic Safety Resource Prosecutor (TSRP)—someone who trains prosecutors and law enforcement about traffic safety issues, and,
The Director of the National Center for DWI Courts—specialty courts for the repeat drunk driver.
All three positions allowed me to make a difference in my community and save lives, whether "my community" was local, state, national, or even global.
But there is more to do. So back in April I created the Traffic Safety Guy.  As a traffic safety consultant, I educate, train, and support those who are working to make our roads safer for me, my family, my friends and anyone else that travels along our roads.
This podcast, Highway to Safety, is one more step in that effort.  I believe that knowledge is power and if people know and understand what it takes to be safer on the road, that will help them take the next step.  This podcast is about providing knowledge, raising awareness, and giving everyone the tools to be a safer driver.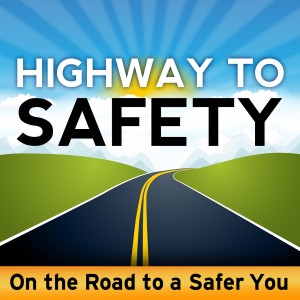 However, above all, this podcast is about Hope. I believe that in my lifetime we will achieve near-zero deaths on our nation's roads. With a consistent message and continued effort, it will happen.  And in highway safety, there is no other more fitting goal to than working towards zero deaths. This is not a pipe dream; we have come a long way—but more has to be done.  Part of that includes you becoming involved, whether it is choosing a safer car when buying one, having a child safety seat properly installed, not drinking alcohol and then driving, or so many other "little" things that all add up to lives saved.
So I invite you to sit back and listen as I bring you conversations with policy makers, traffic safety professionals, and the people who make a difference every day of their lives.  I offer you the opportunity to hear their stories of passion, and hope, that one day no one will die because of an impaired driver or someone that was texting on the phone while driving.
I invite you to join me on this journey, a journey to become a safer driver, and in the process, save lives.
Related Links