May 5, 2014 | Posted in Podcast Episodes, Teen Driving
Podcast: Play in new window | Download
May is Global Youth Traffic Safety Month® and this episode is part of a series examining teen driving, and what can be done for teens to be safer drivers.
I start the series off speaking with Carrie Sandstrom and Noah Brooks, two youth leaders in the United States. Carrie is from North Dakota and she was the 2012-2013 National Student of the Year for Students Against Destructive Decisions (SADD). Noah is from Pickford, Michigan, and he is the 2013-2014 National Vice-President of Programs for Family, Career and Community Leaders of America (FCCLA). Both are also involved with the National Organizations for Youth Safety (NOYS).
The importance of the traffic safety cannot be overstated. Every year 1.3 million people are killed on the world's roads, with road crashes as the #1 cause of death for people ages 10 to 24. Every day 3,000 people die and many more are injured from traffic crashes that arepreventable. Pedestrians, cyclists and motorcyclists account for 50% of all road traffic deaths. It is because of these troubling facts that the United Nations declared 2011-2020 the Decade of Action for Road Safety.
Global Youth Traffic Safety Month
To raise awareness among the youth, May is "Global Youth Traffic Safety Month" (GYTSM). Hosted by NOYS, GYTSM is a month-long campaign designed to engage teens in traffic safety projects in their communities. As stated by Carrie and Noah, the focus is to have youth develop and share the traffic safety message with other youth. Peer-to-peer messaging can be more effective.
On May 1st, NOYS held the U.S. kick off for GYTSM with a rally followed by a Long Short Walk. The Long Short Walk is an initiative of the Zenani Campaign. Nelson Mandela's great-granddaughter, Zenani Mandela was killed in a traffic crash when she was 13.  The Long Short Walk raises awareness of pedestrian safety, with people from around the globe walking and promoting road safety.
Later in the day the youth attended a Teens & Trucks Program and learned about traffic safety around semi-trucks. Created by the Commercial Vehicle Safety Alliance in collaboration with the Arizona Trucking Association, Arizona Department of Public Safety and American Trucking Associations, the Teens & Trucks Training Program was developed to help educate teens about safe driving practices around commercial vehicles. Teens get the opportunity to hear about driving a semi-truck, see the visual limitations a truck driver has in seeing other traffic, and learn how to drive safely near a truck.
Activities During Global Youth Traffic Safety Month
During May and beyond, a number of activities will take place, such as the Foundation for Advancing Alcohol Responsibility's (FAAR) I Know Everything[1] school assemblies, mock Traffic Crashes, and SADD SPEAKS[2]. Youth organizations such as NOYS, FCCLA, and SADD, and others from around the county and the globe provide youth the tools needed to share a message of traffic safety. Noah stated that "If teens want to make a difference, don't have an adult come in and speak to schools and the students as they have in the past, they need to do it themselves." It is more impactful coming from their peers, and the youth are more likely to listen. The tools are available; the youth just have to take action.
It is Just the Beginning
Bringing students to the Washington DC area for the GYTSM Rally was not a conclusion to the traffic safety effort, it was a start. The youth will now go back home and share with others what it takes to be a safer driver. It means these teens becoming a role model for their peers, for their parents and other adults.
Does it make a difference? According to Carrie and Noah, the youth are getting the message. But it can't stop. Traffic Safety is an ongoing struggle.   "Good Traffic safety never goes out of style," says Carrie. "It is something that is a constant and something that teens should develop a strong habit of when they are young and continue for the rest of their lives."
Related Links:
Other Websites:
Related Links:
[1]IKnowEverything highlights the issues of drinking alcohol underage and then driving as well as distracted driving, and reiterates that parents have the greatest influence on their teen's driving behaviors.
[2]SADD SPEAKs is an intensive advocacy training program focused on teen traffic safety. 12 students will be chosen to participate for 2014. These students will participate in online training in May and June, then gather for training in Washington, DC, on June 20-22 before the SADD National Conference (June 22-25). SPEAKs delegates will help train conference attendees in advocacy to prepare them for a rally on Capitol Hill and visits to their legislators at the end of the conference.

November 23, 2013 | Posted in Podcast Episodes, Teen Driving
Comments Off on 06 – Parents – A Critical Component for Safer Teen Driving
Podcast: Play in new window | Download
A Conversation with Tim Hollister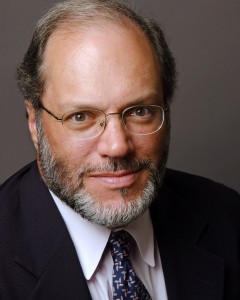 Tim Hollister is a national expert on teen driving and author of the book Not So Fast: Parenting Your Teen Through the Dangers of Driving.  As a parent whose 17 year-old son, Reid, died in a one-car crash while driving, Tim brings a unique perspective to the information parents must have in order to determine if their daughter or son should be driving.  In Not So Fast, Tim presents a clear description of the risks teens face every time they get behind the wheel. He provides parents the benefit of his years of research and discusses specific recommendations aimed at decreasing the inherent dangers associated with teen driving.
In our conversation, Tim recounts his belief that prior to his son's death he considered himself to be a well-informed parent about the risks his son faced while driving, and the steps he took afterwards to correct that mistaken belief.  Tim's book is designed to "help parents understand the real risks of teen driving" and assist them in determining if their teen should be driving on a particular day, or at all.
Teens and Safe Driving
In this episode Tim discusses a critical wrong assumption many parents make: that their teen is a good person and therefore a safe driver. In other words, the erroneous belief  that it is the other driver who is the problem. As Tim points out, it is not possible for teens to have the necessary skills to be risk-free drivers due to a combination of biology, inexperience, and the essential time needed to hone one's skills. Our brains and judgment are not fully developed until our mid-twenties. Add to this the fact that it takes three to five years of driving experience to become relatively safe drivers, and science and research tell us that no teen can be a completely safe driver.
This does not mean that parents cannot help their teens to be SAFER drivers. They can.  It means that parents need to understand a teen's limitations by being informed and then acting on that knowledge.  During our discussion Tim provides critical considerations for parents and teen drivers, such as knowing the difference between purposeful driving and joyriding, and the importance of a Teen Driving Agreement (TDA).  A model TDA is provided in his book.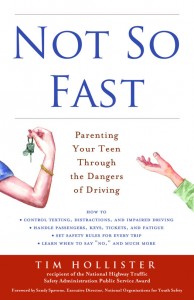 Not So Fast
Created from his blog, From Reid's Dad, Tim Hollister shares the best of his blog posts in twenty-six short chapters packed with priceless information,including:
Why there is no Such Thing as a Safe Teen Driver
What Driver's Ed Isn't
The ABC of GDL (Graduated Driver Licensing)
Negotiating and Enforcing a Teen Driving Agreement
Managing Curfews, and
Supervising the Brand-New Driver.
Tim helps parents understand the issues and how essential parental supervision is to the safety of their teens and everyone else on the road.  Not So Fast is a must-read for any parent with a teen driver and this podcast episode is a great discussion of the author's deeply personal experience and wealth of knowledge on the perils of teen driving.
RELATED LINKS:
Websites:
Resources:
Other:
Video:
Teen Driver Safety: Reid's Story